The Oil By RGJ No. 1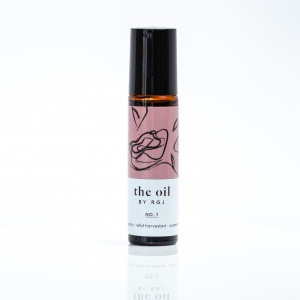 use this oil as a fragrance and be delighted to know that it has tremendous therapeutic properties.  calm, grateful, refreshed and connected are the qualities this blend embodies. sometimes referred to as the mama blend, this oil inspires all that is required when you are in the mothering role. think nurturing  a  new life-altering project, an epic idea, a  sweet little person, or an cutie pie animal.  the scent evokes the spirit of a wild french garden.  imagine you are walking by a dwell-worthy french country house that has wild lavender and roses throughout. a subtle scent of the most divine incense (like the good kind you remeber from a great yoga class or church or sacred ceremony) wafts out of the house right by your path and your heart is filled with tremendous gratitude because you realize how lucky you are in this moment on the planet right now.
take a deep breath and enjoy.